Jeans Wet & Dry Bag
A truly wonderful bag that allows you to carry your wet and dry items in the same bag.
Bag contains a "wet" section that is sewn and sealed for no wicking or leaking AND a zippered dry section along with a clever handle for easy carrying. Carry all your items in one bag while keeping your dry items dry and your wet or soiled items separate. Truly an all in one bag!

* Despite every effort to provide accurate images of each product's colour and design, actual colours and design may vary slightly, due to different device screen settings, the lighting in the image location, slight differences in product finishes over time and other factors.
Product tabs
Features

Reusable
Waterproof
Machine washable
TWO Zippered compartments for keep wet and dry things separate
Comes with handle for easy carrying or attaching to your change bag or pram
Lightweight (less than 50 g)
Also great for swim suits or other wet items

Materials

Size: 30cm x 36cm(approx.:11.5 in x 14 in)
Holds approximately 5-7 cloth diapers
Recommend this product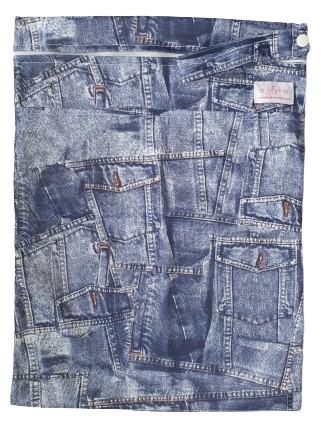 Jeans Wet & Dry Bag
Spread your payments at checkout. See
here
for more information.
(subject to availability / minimum purchase)
Make monthly payments from £.


Make weekly payments from £