Daisies
Conventional disposable products can contain plastics, artificial fragrances, adhesives, and chemical gels – things you don't want next to one of the most sensitive parts of your body! Cloth menstrual pads are made up of bamboo charcoal and microfiber, which is much more comfortable than disposable pads, so you can avoid unnecessary exposure to the synthetic ingredients in disposable pads and tampons.
One of the lesser-known benefits of switching to reusable menstrual pads is the period positivity that comes along with it. The menstrual cycle is a natural - even sacred process. Many of us grow up believing that it's a messy inconvenience or, worse, a disgusting disease-like condition. The embarrassment or shame we feel about our periods is often a result of negative cultural conditioning. Many women have experience profound positive transformations in their feelings toward their menstrual cycles after ditching the disposables!
Product tabs
Features

Outer layer is Minky PUL, inner is Bamboo Charcoal, Middle is Microfiber.
Minky material is super soft and skidproof. PUL water-resistant back layer to prevent leaking. Bamboo charcoal is hypoallergenic, naturally deodorizing, anti-bacterial. Microfiber is super absorbent.
There is bamboo charcoal & microfiber layer called ZORB in the middle core( which is super absorbent).
Perfect for light/ medium flow days & even some heavy days.
Minky PUL wings with adjustable snaps for a snug fit.

Sizes

(All sizes are approximate)
Recommend this product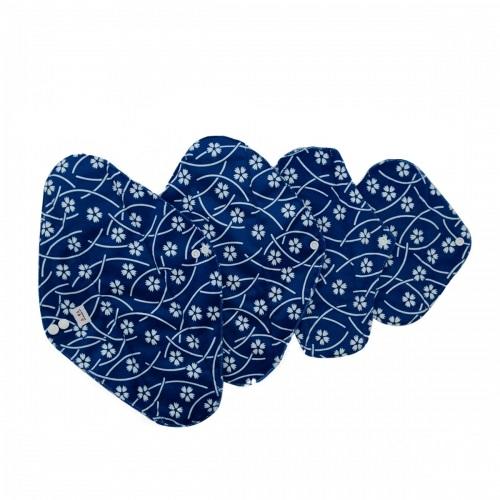 Daisies
Spread your payments at checkout. See
here
for more information.
(subject to availability / minimum purchase)
Make monthly payments from £.


Make weekly payments from £